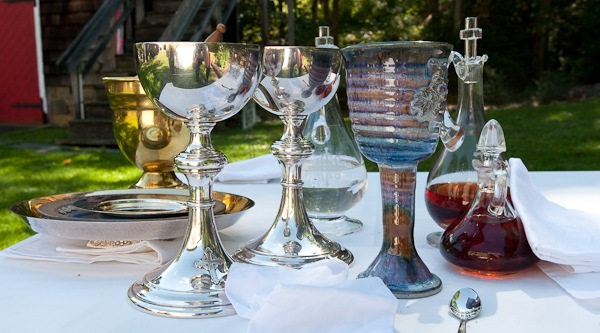 As a church, we believe in an active and loving God who is always willing to accept us, no matter how far we may have turned away. We recognize that everyone is at a different place in their spiritual journey. Therefore, we believe the mission of the Church of the Messiah is to be a spiritual resource to its members, both Episcopal and others, as they seek to discover, define and develop their relationship with God and the people and world around them. The church does this by offering opportunities:

1. to worship in the celebration of the Eucharist (Mass) and other services,

2. to actively participate in worship services,

3. to participate in adult and youth religious education, and

4. to reach out to those in need in this and other communities.

You are ALWAYS welcome at the Church of the Messiah. We are happy to see new faces and invite all who seek to learn and share the Gospel to join us for any service or event at our church home. We are glad that you are learning more about us and hope to see you soon. Questions? Feel free to contact us.

We have a large parish hall with an additional comfortable area with sofas, which is available to the community. Call 908-879-7208 for details.


Welcome to the Church of the Messiah!

Whether you have attended church regularly, or never attended before, you are welcome to worship with us. We are all-inclusive and welcome seekers; those with questions, those with children, and those without. We are accessible, with plenty of space for wheel chairs and walkers. We are an Episcopal church and use the Book of Common Prayer to direct our worship. We provide an easy-to-follow worship bulletin with all the details. We love music and song and have an organ and piano in the church to accompany our singing. Both our Sunday morning worship services offer Holy Communion. We believe Jesus Christ welcomes all to his table, so we welcome all to our altar to receive Holy Communion.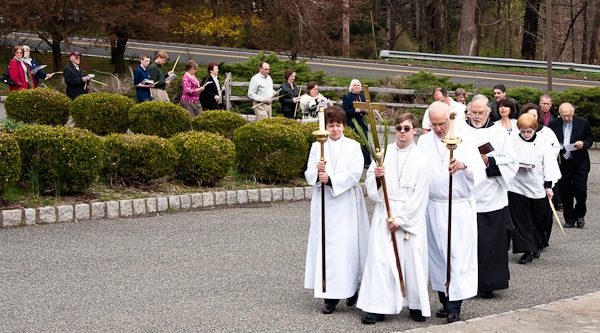 Q: Do I need to bring anything with me when I come to church?
A: No come as you are.

Q: Can I receive the bread and the wine?
A: Yes if you wish; we believe Jesus welcomes all to his table and so we welcome all to the altar. We offer grape juice and gluten-free wafers as well as regular bread and wine.

Q: What do you call receiving the bread and the wine?
A: We call it the sacrament of the Holy Eucharist or Holy Communion (we could also call it the Mass)

Q: What is a sacrament?
A: A sacrament is an outward sign of an inner truth. We often refer to the inner truth as a spiritual gift, a gift of God to us.

Q: What if I don't know when to kneel or stand or sit?
A: We invite you to sit by someone who would prompt you. But at Messiah we basically sit to listen and stand (if we can) to participate. Our worship bulletin also tells us what to do. Those who wish to kneel for prayer can do so.

Q: I am in a wheel chair, are you accessible?
A: We are fully accessible

Q: Will my children be welcome, they may be noisy?
A: Yes all are welcome. There is a delightful nursery for little ones if you wish to use it. The staff is trained. There are Sunday school classes for children aged 4 to 12 which take place during the worship service time. Children come back to receive Holy Communion with their parents.

Q: Can children receive Holy Communion?
A: Yes they can, as we believe Jesus welcomes all to his table



Stewardship means that we understand that we are responsible to God for the way we use all the gifts God has given to us. These gifts include our time: how much of it do we use for God. How much do we spend doing God's work? These gifts also include our talents: all of us have abilities and skills and we should develop them, use them, rejoice that we have them and allow others to benefit from them. Finally these gifts include our treasure, our money, our financial resources. As God has given to us we should be thankful to give back to God. We are encouraged to give to God in proportion to what we have.


Who we are: Our past, present and future


When the first sanctuary of Messiah was dedicated on Sunday, September 25, 1983, The Rt. Rev. John S. Spong dubbed the church "St Elsie's" because the sanctuary was, in fact, a newly converted dairy barn. We enjoyed that nickname for many years and still have a banner bearing the likeness of a cow!

Over 4 years of work led up to that dedication service. Bishop Spong and the Department of Missions determined the need for establishing a mission in the Chester/Long Valley area in the late 1970's. The Rev. Jay Taylor began knocking on doors, and the new congregation began meeting in homes in March of 1979. By September 1979, 30 to 40 members began regular Sunday worship in West Morris High School.

Search for a permanent place of worship began, and a dairy farm located on the main thoroughfare between Chester and Long Valley was selected. The lower level of the barn was transformed into a sanctuary, with a meeting room, an office, a small sacristy/choir room, and toilets on the same level. The upper level of the barn was left for the bats and future expansion. Sunday school and nursery were located in a 2-stall stable behind the church. A converted cider mill/distillery with thick stone walls became the residence for the priest.

Jay Taylor retired at the end of 1985 and Joe Pickard became our second Vicar in the fall of 1986. New housing developments were blossoming all over the area in the mid- to late-1980's and we at Messiah were optimistic that we would soon outgrow our facilities. What was anticipated as a modest Sunday School addition turned into a major expansion, with a huge new basement under a new sanctuary, with a large new parish hall and full kitchen. Because our beautiful rural site includes wetlands, we could only expand our footprint once (and with many restrictions at that), so we built to meet all of our anticipated needs many years into the future. Fortunately the Diocese supported us in every way, including financially. Bishop Spong dedicated the new sanctuary on November 1, 1992.

Joe Pickard announced his resignation less than a year later and Jeannette DeFriest was appointed Vicar in November 1993. Our 11 years with Jeannette were peaceful and productive ones. She fostered a sense of community as we grew into our new space. She achieved one of her goals when our little mission attained parish status in 2002 and she became Rector instead of Vicar. The Diocese forgave our large mortgage, allowing us to use our resources to grow and contribute to our local community. Jeannette's other major accomplishment during her tenure was spearheading the organization of what was originally called the Messiah Community Resource Center. Incorporated in 2000 as a 501c-3 non-profit, MCRC provided us with an effective structure for outreach to the elderly in our area. This organization, now known as the Senior Resource Center (SRC) has grown to offer counseling and referrals to seniors and their caregivers, as well as a full program of exercise classes and Lunch-n-Learn seminars on a wide variety of topics of interest to seniors. The offices and most of the programs are located at the church.

When Jeannette left in December 2004 to accept a call to a larger church in the Chicago area, we began the search process for a new rector. Fortunately for us, the Rev. John Negrotto was available to serve as our capable interim pastor. Father John helped us to keep focused, and our sense of community grew during his tenure. It took almost 3 years, but after a careful and thorough search we invited the Rev. Margaret Otterburn to become our second Rector.

Margaret arrived in October 2007 and was installed on December 18, 2007 by Bishop Mark Beckwith at a celebration service. She has boundless energy and we now offer more worship services, more educational programs, more social events, more of everything! She has greatly expanded our outreach to the community (Thrift Shop, cooking regularly for Homeless Solutions, regular support for 2 local food pantries, gifts for needy families at Christmas and Easter, etc.) We also now offer many more programs for kids, with special Pray 'n' Play services twice a week, summer Vacation Bible Camp, and a regular Sunday School program for all ages. Our buildings are almost always in use, and we are continually evolving to meet the needs of our congregation and larger community!

We are the community of Messiah, bound together in love and service of Our Lord.