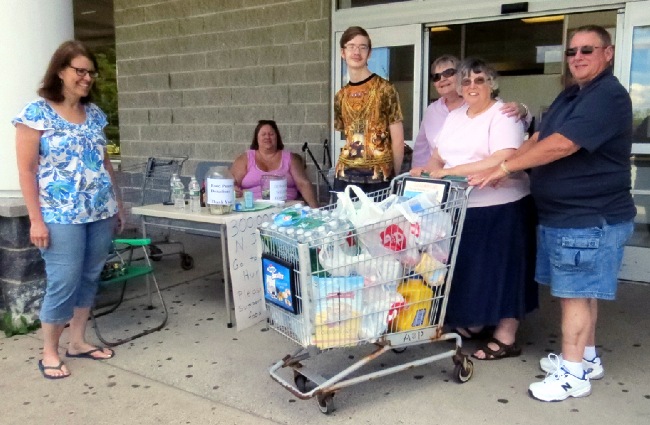 Empty Bowls - Did you know that more than 300,000 children in New Jersey go to bed hungry each night, and that almost 900,000 New Jersey residents rely on food banks? During Messiah's Empty Bowls Food Drive, teams of volunteers visited area supermarkets with flyers listing most-needed items at the local food pantries and asked customers to consider buying something on the list while doing their grocery shopping. We want to thank everyone who donated their time to man collection points and everyone who made a donation! (Pictured above - Messiah members staff a collection point at A&P, in Hackettstown.)


"…Love one another. As I have loved you…" John 13:34

Giving is an expression of love - As God gave us his only son, we believe that joyful giving to those in need is one of the greatest expressions of our love for our church, for our community, and for one another. That's why Outreach is such an important aspect of parish life at Church of the Messiah. Whether you have an abundance of time and resources, or just a little to share, every contribution is deeply appreciated and we hope that you will join us in participating in one of our vital Outreach programs.


Easter Bags for Needy Children in Chester: Once again we will be giving Easter bags to all the families with children who receive food from the Chester food pantry. The families are identified for the Chester food pantry as those whose children receive free meals at school. There will be a list in the parish hall and tags on the Easter giving tree. You are invited to take a tag from the tree and buy suitable gifts for the children in that family. We suggest you limit spending to about $20 per family. A sheet with a list of suitable items is available for you to take if you are uncertain what to put in the bags. The deadline date will be announced later in March. Thank you for helping to make Easter a special time for these families!

Neighbors in Need - "Neighbors in Need" in March is Chester Food Pantry. All shelf-stable donations are appreciated. Please see the Messenger for a list of needed items.

Please remember PLUS ONE when you are shopping for groceries. If every family picked up just ONE extra item each week when shopping, the bins at the back of the church would be full every week. Please remember the needy right here in our community!! We boosted our food collection recently in several ways. Some of us went trick-or-treating in Chester requesting canned food instead of candy, and we were quite well-received. People also brought many food donations to our very successful potluck supper in November, and to the recent music concert. Every event at Messiah is an invitation (but never an obligation!) to share food items with our needy neighbors.

Homeless Solutions - This is another opportunity for "hands-on" ministry, cooking and serving the dinner at the Morris County Homeless facility called "Homeless Solutions. Our next scheduled serving dates is March 17 and April 13. We cook a very nice meal − usually baked chicken, roasted potatoes, a vegetable, salad, bread and butter, and dessert. Anyone 9 or older can help.


We provide, cook, and serve evening meals every month at "Homeless Solutions," the facility for the homeless in Morris County. A team of 4 or 5 members from Messiah arrive with a trunk load of food to cook and serve to the aprox. 70 individuals and families who live there temporarily.

We support Haven of Hope for Kids, in Hope, New Jersey by providing a BBQ dinner each summer for the families who are there.

We provide Easter bags for all the families who receive food from the Chester Food Pantry.

We supply Back to School Supplies for area children in need

We provide Thanksgiving Baskets for area families in need

Our Christmas Giving Tree provides gifts for all the seniors who attend the Time Out Senior Center in Succasunna.

Our Thrift shop not only sells clothing and home furnishings to all our shoppers, it also supplies many clothes for the needy in Jersey City.

Our annual Vacation Bible Camp collects canned goods for the Chester food pantry.

Each Halloween day, a group from Messiah "tricks and treats" for food donations in lieu of candy to benefit the Washington Township food pantry.

Each summer we offer a week-long Annual Mission Trip to support various ministries in the New York-New Jersey metropolitan area. The 2015 Mission Trip was centered at the Church of the Epiphany, in orange, NJ. Our team assisted with the church's Vacation Bible camp from July 19 - 24.

We participate in the annual Long Valley CROP Walk with our fellow Long Valley churches to raise money for world hunger.


We participate in the Neighbors in Need program, collecting requested items throughout each month (on a rotating basis) for the Chester Food Pantry, the Washington Township (Long Valley) Food Pantry, and North Porch in Dover, which ministers to the needs of mothers and infants. Our members bring their donations to Messiah, where they are brought up the altar to be blessed during the offertory hymn.

We think Green at Messiah. We will take all your spent printer cartridges and cell phones for recycling. Contact us if you have questions by sending an email to info@messiahchester.org. Put "Recycling" in the subject heading.

We support GreenFaith by sponsoring a free solar panel screening program for individual homeowners. To see if you qualify for free solar panels and free installation Go to: https://www.z2systems.com/np/clients/greenfaith/survey.jsp?surveyId=37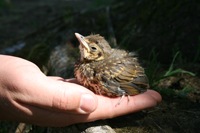 Lord, make us instruments of your peace. Where there is hatred, let us sow love; where there is injury, pardon, where there is discord, union; where there is doubt, faith; where there is despair, hope; where there is darkness, light; where there is sadness, joy. Grant that we may not so much seek to be consoled as to console; to be understood as to understand; to be loved as to love. For it is in giving that we receive; it is in pardoning that we are pardoned; and it is in dying that we are born to eternal life.

A Prayer Attributed to St. Francis, The Book of Common Prayer, Prayers and Thanksgivings

NEW! ELECTRONIC GIVING NOW AVAILABLE!

It just got easier to give to Messiah! Just lick the "Donate" button. The first time you do, you'll be asked to provide the bank account which you want your gift to come from. Your gifts may be one-time or recurring. And you may specify any particular cause within Messiah that you wish to support.



http://www.havenofhopeforkids.org

http://www.homelesssolutions.org