Messiah's Sanctuary is now 25 years new! We will be celebrating 25 years since our sanctuary was consecrated on Sunday November 12. Our guest preacher will be the Rev. Canon Greg. Jacobs, our Diocesan Canon to the Ordinary. Following the service we will enjoy a special lunch and then a fashion show featuring some of the amazing garments donated to our Thrift Shop. Models of all ages are encouraged to participate!


November 18, The Joyful Silvertones 10th Anniversary Concert: Over the last several years The Joyful Silvertones have thrilled us with their gospel tunes at our concerts and have become a part of the Messiah family. The Bell Choir is honored and delighted to have been invited to perform at their 10th Anniversary Concert. Other participants will include The Americana Troupe and Kathleen Fortunato's Jazz Trio that performed at our concert last year. Please come out to support the Bell Choir and The Joyful Silvertones on November 18. The concert will be held at 6 p.m. Fountain Baptist Church, 116 Glenside Avenue, Summit (very easy access from Route 78). If you need transportation or would like to carpool, see me or any member of the Bell Choir

Save the Date!

Dec. 2, Gingerbread House Making: This annual fun event for families and people of all ages will be on Saturday, Dec. 2, from 10 a.m. – 12 noon in the parish hall. You are invited to bring supplies if you wish, but we have boards with boxes attached all ready for a creative mind to design a house. We also have candy and frosting.

Be sure to click on the links for our Calendar and wonderful newsletter, The Messiah Messenger, to get all the news and events for the month.


Calendar & Messiah Messenger


Church Of Messiah Annual Survey - The annual survey is now available for your input. Please return by mid-June to Julie or Margaret or place in the basket in the Parish Hall. We look forward to everyone's input and reflections. Please remember to complete the front and back of the survey. CLICK HERE for a downloadable pdf of the survey


MISSION TRIP(S) 2017

Mission Trip #1: This year we returned to the Church of the Good Shepherd in Ringwood to help with their all-day Vacation Bible Camp by mentoring their leaders.

Mission Trip #2: - We assisted The House of Prayer in Newark with their Vacation Bible Camp.

See our current issue of The Messenger for highlights and personal experiences from this year's mission trips.


Christmas pageant 2016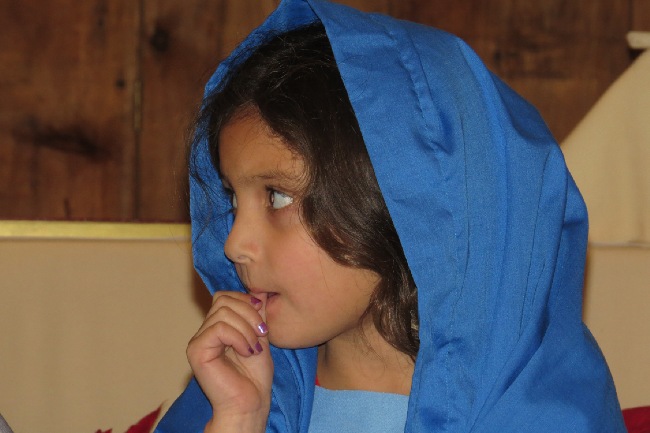 A generous donor has recently blessed us with the gift of a Yamaha Clavinova baby grand piano. This is an electronic instrument that replicates the rich sound of a baby grand piano while also offering the ability to add character to a piece with preset instruments as well as imported accompaniments. This instrument is a wonderful addition to our music ministry.

MESSIAH IN THE NEWS!

Click on the links below and check out the "Flippin Fun" coverage of our Annual Shrove Tuesday Pancake Party in the Daily Record...

http://dailyre.co/1EubChv

And coverage of our "Maypole Fun and Environmental Stewardship" in the Observer-Tribune...

http://www.newjerseyhills.com/observer-tribune/news_line/maypole-fun-environmental-stewardship-at-church-of-messiah/article_b3ffc8a6-f2c7-11e4-91cf-101f742cecfe.html

A big thank you to both of these local newspapers for covering our events at Messiah!


Calling All Hoopsters! We have a new basketball hoop in the back parking lot! A ball is available in the closet downstairs at the end of the hall near the bathrooms. Take a break and work off some of those coffee hour calories!

New time for Pray and Play - The moms and toddlers who come to Pray and Play service have agreed that Monday at 10:15 a.m. is a good time to meet. This service is especially tailored for children ages 6 and under and their families. We meet in the church. We will also offer Pray and Play on the first Sunday of every month at 9 a.m. (meeting in the lower parish hall).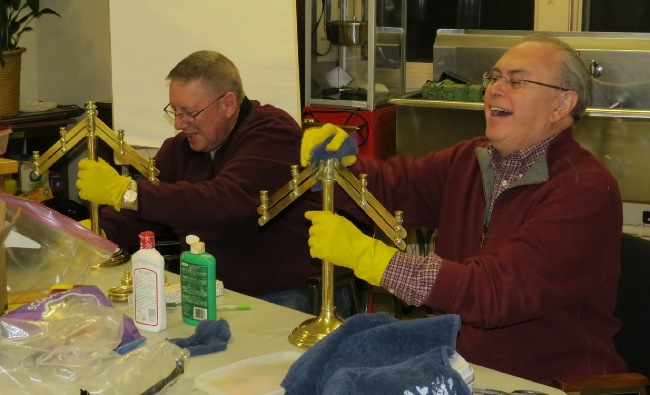 Members of the Men of Messiah (MOM) at work polishing the brass.

Men of Messiah (MOM) – The next meeting of MOM is November 18 at 10 a.m., in the Messiah kitchen. Light breakfast of bagels, fruit, coffee, and juice will be provided.

Women of Messiah Encouraging & Nurturing (W.O.M.E.N.) - Our next meeting will be November 28.

Inquirer's Class - Interested in learning more about the Episcopal Church? Please join us for a 5-session class that will enable those who are interested to discuss and learn more about the Church, Christianity, and the Bible. This is a great opportunity for discovery and to ask questions about who we are. Classes held several times a year at convenient times for those interested are interested.

Education For Ministry - This is not a program for those seeking ordination as they go to seminary. But this is a wonderful college level program for any one interested in learning more by reading and discussion. The program continues for four years, each year a separate unit. Currently there is a class on their third year of study on Mondays evenings. A new class is being formed on Tuesdays from 3:45 - 5:45 starting in September. if you are interested please speak with Margaret who is the facilitator for the program.

Bible Study at Messiah - We will be discussing The Old Testament on Tuesdays at 1 p.m. and The New Testament on Thursdays at 11 a.m.

Lunch Book Group - Tuesdays at Messiah on the lower level, Noon to 1 p.m.
Each week's reading and destination is listed in the Sunday announcements. We will be bringing our own lunches so pack or tote your meal; coffee and/or water will be served while we discuss.

Contemplative/Centering Prayer - It meets every Tuesday at 8 a.m. in the church. You are welcome to join our group for 30 minutes of quiet prayer. Other times are possible too, contact the rector if you are interested

Tuesday Book and Movie Night - A Book discussion and bag supper usually held the first Tuesday of each month at 6:30 p.m. followed by a movie (TBD) at around 7:30 p.m. Click on our current Monthly Messenger for book descriptions and details.

Armchair Theologians - A summer program that meets on Monday evenings at 7 p.m. ending with Compline at 8:30 p.m.


Coffee Hour is available after each Sunday Service in our Parish Hall. It's a wonderful time to enjoy friends and fellowship with members of the Congregation. Want to help out? Sign up to host coffee hour! An updated calendar will be posted soon! Sign up for an empty date by sending an email to info@messiahchester.org with "Coffee Hour" in the subject heading.